Math Practice 101 – The ultimate math practice app for children of all ages and even their parents.
Master addition, subtraction, multiplication, and division in no time. Track your progress and statistics and find your strengths and weaknesses. Then practice more and improve your math skills.
• All ages
With its increasing difficulty, Math Practice 101 is suitable for children of all ages and even grown-ups.
You can choose the numbers you want to practice and the practice duration – 3, 5, 8, and 10 minutes. With the time advancing, the difficulty increases and the questions get harder. When the practice is over your statistics are saved so you can see where you did good and where you need more work.
Math Practice 101 features 4 main levels – Addition, Subtraction, Multiplication, and Division. Each of them has its own levels with different numbers to choose from for your practice session.
• Parental Control
We are very careful about children's privacy and we know how important this is for you. Math Practice 101 does not collect any personal information and comes with a built-in parental control. Visit our privacy policy page for more information.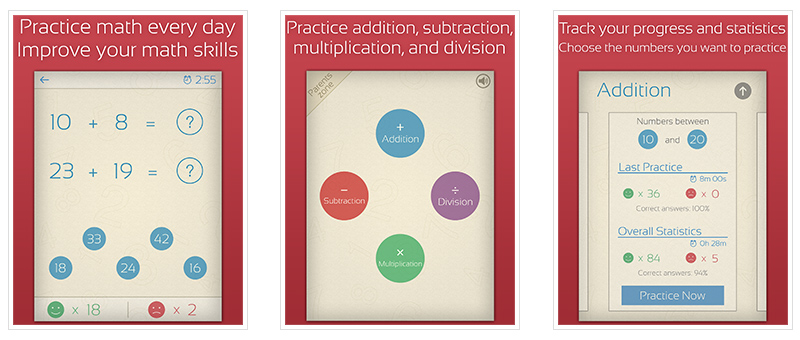 • Follow us for news and updates:
Twitter: www.twitter.com/brightblueapps
Facebook: www.facebook.com/pages/Brightblue-apps/453394654754741
Price: FREE     Devices: iPad/iPhone/iPod Touch     Link: DOWNLOAD